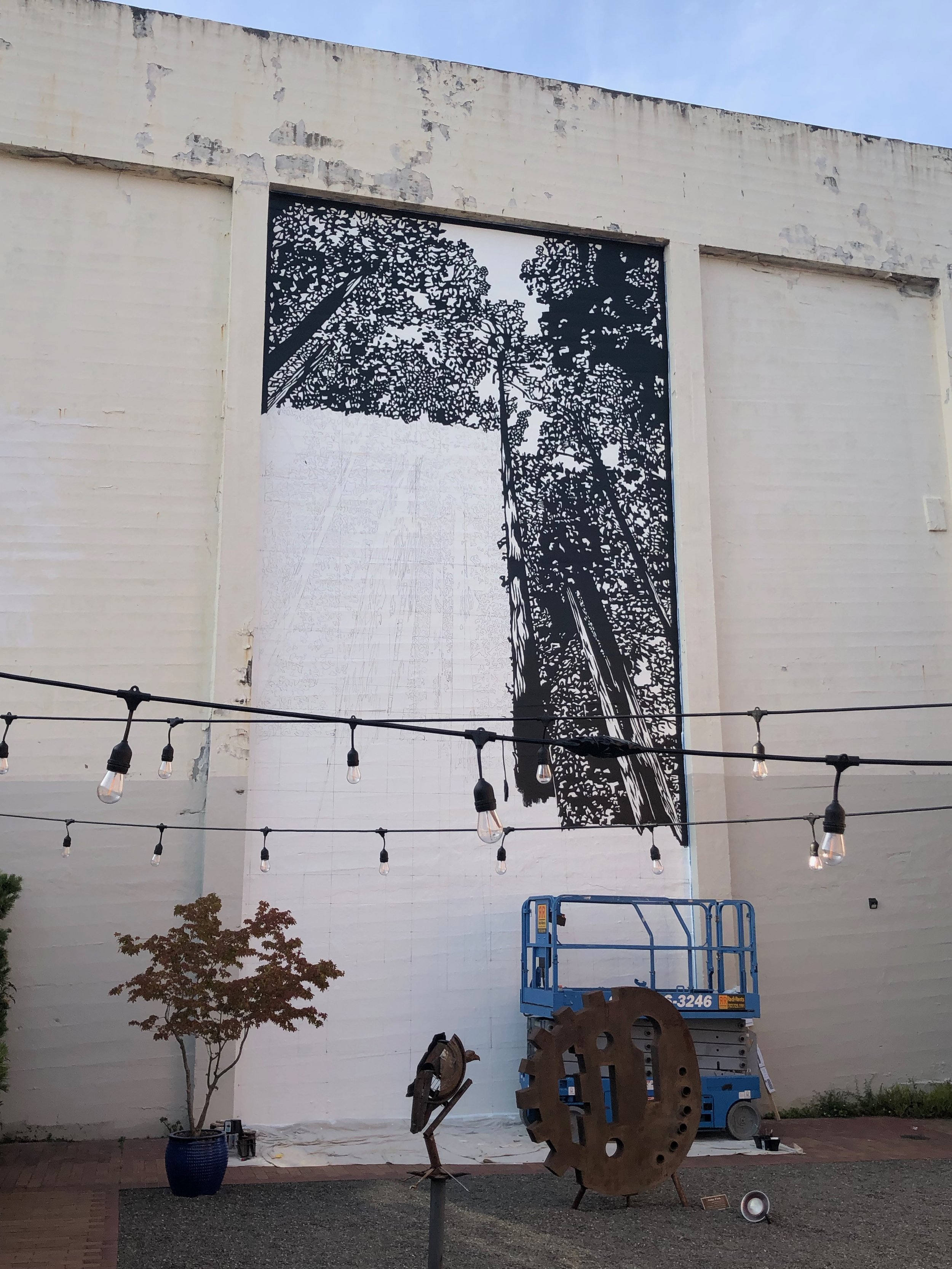 The mural "Reverence for Elders" was painted by Lynn M. Jones during the 2019 Eureka Street Art Festival. It is located on the side of the Eureka Theater, inside the Melvin Schuler Sculpture Garden at the Morris Graves Museum of Art in Eureka, California. It is 36 feet tall x 17 feet wide. The image is based on her linoleum block print of the same name, which was created especially for this space.
Support & Painting crew included:
Tim Harkins
Claire Harkins
Sarah Whorf
Kerri Conger
Jesse Johnathon
Jessi Hunt
Marina Smith
Gail Popham
Andy Jones
Ava Jones
Morgan Jones
Alissa Morey
Erin Austin
Dave Woody
David Arthur
Financial help was provided by:
Barbara Gregory
Lynn Intersimone
Elissa DeCaro
Shiloh Wisham
Vicki Lore & Mike Buettner
Colleen Clifford
Caroline Perez
Michelle Fuller
Karen Mueller
Marietta James
April Kimmerly
Amy Whitlatch
Grant Scott-Goforth
Kellie Larson
JoAnn M Moore
Keith Clifford
Sean Meehan
Amy Cirincione O'Connor
Samantha Chagollan
Anonymous
Jillian Walsh
Tibora Bea
Chris Kipp
Kacie Flynn
Megan Zagone
Michele & Rollie Olsen
Christina Wood
Kimiko Hunter
Sarah Whorf
Kari Tallman
The McEra Family
John & Melina Harper
Brett Lovelace
J Steven Porter
Anna Jewett
and more small anonymous donors at the shop!
Partially underwritten by the Humboldt Arts Council/Faben Artist Fund.